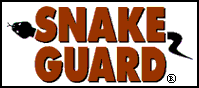 How To Purchase



Snake Guard® does not sell directly to end users on a retail basis. Instead, we rely on a wide network of competent distributors who sell wildlife and pest control products.

To access the list of Snake Guard® suppliers, please enter the words "Snake Guard Snake Trap" in your online search engine and select from one of the many wildlife or pest control companies.

Wholesalers and distributors desiring to carry the Snake Guard® Snake Trap should contact:



SnakeGuard

c/o WCS

Phone number: 860-844-0101

Fax number: 860-413-9831

Email:

info@snakeguard.com


The Snake Guard® Snake Trap is also available for purchase nationwide through Pest Control Operators and Nuisance Wildlife Control Operators.